1-Stop App for real time port and freight updates
You rely on up-to-the minute information on vessel and container movements, port facility delays and disruptions. That's how you keep your cargo moving efficiently.
The 1-Stop App enhances our 1-Stop Gateway, VBS and Container Control technology, with mobile, real-time notifications and zone status updates.
Avoid costly hiccups from delays and disruptions with information that goes straight to driver mobiles. Give yourself an edge with early, accurate information.
Information keeps you moving
Our 1-Stop App has features designed to cut your costs, improve your turnaround times and provide even better service to your customers.
Manifests
Get rid of the paper work and get your drivers to log in to the app to view the list of truck manifests for any of the terminals they are visiting.
The information is updated immediately so if there are any changes to the manifests, your driver will know as it happens. It couldn't be easier to stay ahead.
What you'll see:
Details of the truck, including the truck type and registration.
The driver's name and MSIC number.
The booking type (pick-up or drop-off) and number for each manifest.
Container number, weight, size and commodity
Notifications
Reduce the impact of unexpected disruptions with up-to-date information about vessel delays, stop work meetings or issues with technology or equipment. Notifications also include regulatory information and OH&S updates to enhance your operations and help you provide better customer service and employee conditions.
Notifications in the 1-Stop App are generated in real time by the information sources you rely on today (terminal operators, depots, customs, Roads and Maritime Services, port authorities, 1-Stop) with one huge difference. Information goes straight to your drivers with no delay and no need to call your operators.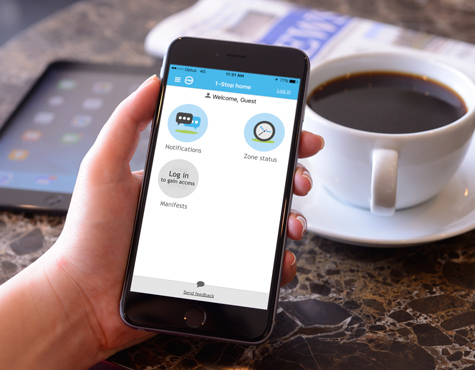 "
"Great app. I use it every day when I'm on the wharf. It sure helps me out all the time."
– Russell Bochard

Zone status
Give your drivers the edge, with early access opportunities at port facilities and terminals.
The Zone Status feature notifies when terminal operators open timezones ('zones') early so your driver can pick up or drop off ahead of schedule.
Benefit with on-time updates, downstream efficiencies and provide outstanding customer service with opportunities for early collection and delivery.